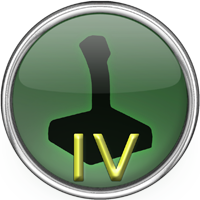 New in ControllerMate v4.6
ControllerMate v4.6 is built for seamless operation with Mac OS X 10.8 "Mountain Lion". Its installer is signed with a Developer ID to allow it to be installed while keeping the secure default settings in Mountain Lion's Gatekeeper. In addition, ControllerMate and its helper are now both fully 64-bit applications.
---
ControllerMate v4.5 changes —
The main Editor window has been redesigned to consolidate programming items
New building blocks that generate and respond to MIDI messages have been added
Axis, Button, and Hatswitch building blocks can now be reconfigured to respond to different controls
Several types of building blocks have the ability to configure themselves by capturing activity from a device or keyboard
An "Activity" panel that creates pre-configured building blocks for currently active controls has been added to the Palette window
Groups have new options to automatically activate and deactivate programming
Multiple building blocks of the same type can be modified at the same time
Importing and exporting of programming has been simplified
Automatic update checking
The built-in help pages have been expanded and updated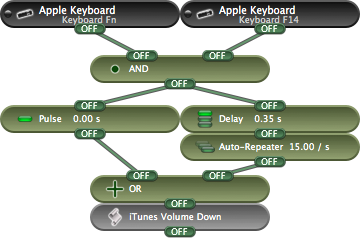 Building functions, one block at a time
ControllerMate building blocks are triggered by controls on devices or MIDI messages. Each type of building block performs a small task. Building blocks can be combined to perform complex functions.
ControllerMate now includes more than 70 types of building blocks!
Some building blocks respond directly to controls on devices. Others perform logic, math, or timing. Yet other blocks trigger activity on ControllerMate's virtual mouse or keyboard, perform AppleScripts, open files, or launch applications. The possibilities are virtually limitless.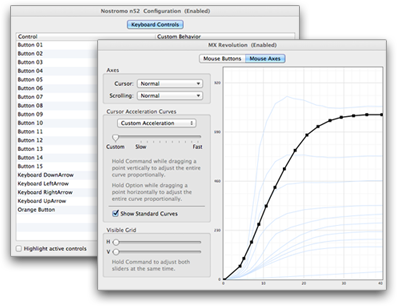 Reconfigure drivers
Driver configurations can be used to change the default behavior of a keyboard or mouse that uses ControllerMate's driver.
All buttons on a keyboard have some default function or another. Most are useful, some are not. A driver configuration allows one button on a keyboard act like another, or can turn a button off completely. Buttons that have been turned off can still be used to trigger building blocks.
A driver configuration for a mouse can include a custom acceleration curve. This curve can be one of the standard curves, a standard curve with an adjusted speed or sensitivity, or an entirely custom curve created point by point.
Multiple configurations can be created for the same keyboard or mouse — use building blocks to control when a configuration is active.

MIDI in, MIDI out
MIDI messages can now trigger building blocks just as easily as buttons on a joystick, mouse, or keypad. MIDI notes, controller values, or patch changes can be used.
ControllerMate can also create and send MIDI messages through a virtual MIDI source. This allows generic input devices to be used to control applications that listen to ControllerMate's virtual MIDI source.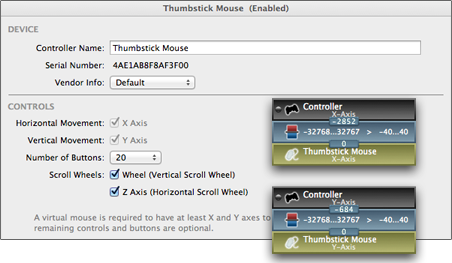 Virtual devices
ControllerMate can create virtual mouse, tablet, and joystick devices that are controlled by ControllerMate programming. The virtual devices are seen by most other applications just as though they were actual devices.
Every move that a virtual device makes is controlled using ControllerMate's building blocks and driver configurations.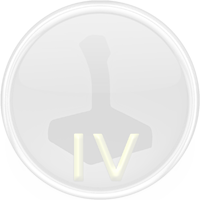 Out of sight, never out of reach
ControllerMate includes a helper application that runs in the background, monitors the attached controllers, and performs the current programming when the ControllerMate application is not running.
After you have finished setting up your building blocks and driver configurations, quit the ControllerMate application and the background application takes over. No graphics, no user interface, no unnecessary processor cycles.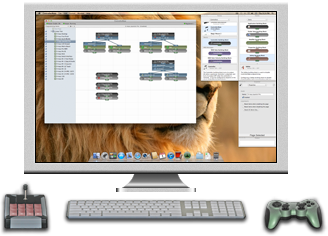 Free to try!
ControllerMate is compatible with many types of devices and can perform a wide variety of tasks. Give ControllerMate a try to find out if it will work for you, risk free, and with no time limit.
When ControllerMate is used without registration there will be a limit of 10 building blocks that generate output (keyboard or mouse activity, MIDI messages, AppleScripts, etc.). Building blocks that respond to controls or MIDI messages, perfom logic, math, or timing can be created in unlimited numbers. This should give you a good opportunity to find out how ControllerMate works and if it will work for you.
Copyright © 2012 OrderedBytes. All rights reserved.